Town of Beaver Newsletter
June, 2007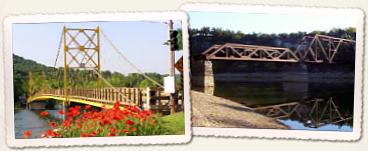 TOWN COUNCIL MEETING
There's a lot going on in Beaver and it's making our town more beautiful. The Mayor has hired a handyman, Dinny Alexander, to help us keep it looking beautiful. There just aren't enough volunteers to go around anymore since the population of the Town has changed from retired to full time employment for the majority of us.
In other business, the council decided not to meet in July and August because so many of us will be on vacation. The next meeting will be September 9, at 7p.m. Minutes and financial records of the Council meetings are available in the Town Office. Call Mary Hill at 253-7078 for an appointment if you wish to review the records.
PARK UPDATE
The Park is looking great thanks to Sue Tinsley and son, Billie. Billie is also helping at the Beaver Town Inn. So when you see him, say "hi". He'll leave in August to return to his hometown for his senior year in high school.
Sue is working hard on the Paddle Fest and plans for a July 4th chili cook-off. So those of you who just have to brag on your chili, bring it on down to the Park and a few of your favorite friends and see if you have the winning recipe.
We'll be decorating the Bridge and Gate House again this year and would like some help. So reserve June 28th, early morning to hang the bunting. It'll be fun! And, if you're at all musically inclined, Sue is looking for folks to "pick and grin" on Saturday nights at the Pavilion so give her a call at 253-5700 and tell her you're interested in performing. She'll love to hear from you.
KEEPING YOU POSTED
by Debra Davis, Postmistress
Here is a little tip to help with the rising gas prices: Keeping your tires inflated to their proper pressure reduces tire wear and keeps you safer. But did you know that it saves energy as well? The Energy and Environmental Analysis, Inc., estimates that gas mileage improves by 3.3% when we keep tires at their proper pressure. And, you save money as well-7 cents on every gallon of gas that you buy.
The Star Wars stamps are HERE! I also have in stock the Star Wars Post Cards with matching stamps that make great gifts. We also have received the unique James Town Stamps that share our American history.
FREE herbs in the Beaver flowerbed just pick what you need of the basil, rosemary, regular and lemon thyme, sage and lavender. SPECIAL THANKS to Larry and Pamela Teslow for all the extra they do to keep the Beaver Post Office running and the landscaping looking beautiful.
BEAVER GARDENS
Mary Hill Chairperson
I know, I know, the firehouse flower bed needs weeding. Could sure use some help. Larry Teslow and I have spent a lot of time on our knees this week (more than we ever do in church) working on the rose garden by the bridge. I'm grateful to Larry and his wife, Pamela, for all their help. Thanks, ya'll.
We owe a special THANKS to Smith Truer, owner of the Beaver Town Inn and Castle, for digging the holes with his backhoe. He really can pick up a quarter with that thing. It sure saved us a couple of days of work. Thanks, Smith.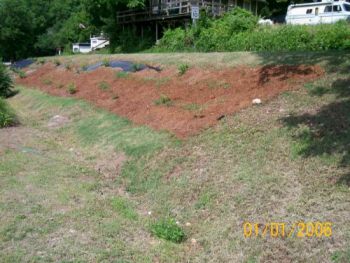 The roses that we planted last month are already showing buds and will be blooming soon and should put on a nice show for the 4th of July. When you see the big pile of mulch at the Garden, please come on down and help spread it on the rose garden. Remember your Grandma saying, "many hands make light work" See you there.
FIREWISE AND ARBOR DAY
Bill Padgett, Chairperson
A big thanks to Bill Hill for taking a long weekend and cutting the brush from around the gorgeous sycamore and live oak on John Ratliff's property. Local artists now have two perfectly formed and beautiful trees to photograph or paint. So, let's see you out there with those cameras and easels. When asked why he did it, Bill Hill says "I look at those trees every day and just thought they'd be better without the brush". He's right!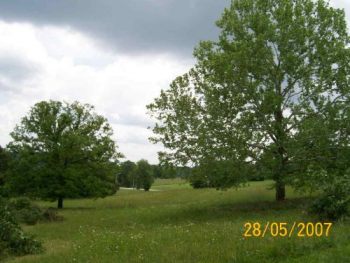 COMING EVENTS
Mark your calendars for June 28th to decorate the bridge and gate house; July 4th for the annual festivities and chili cook off; and July 27-29th for the 2nd annual PaddleFest with Lewis and Clark.
June 16, Saturday- Pickin and Grinning (potluck) 6-10 pm Bring your instruments and songs and sing along., or your cds or tapes. Bring a lawn chair and sit back and enjoy the easy things in life.Bring your favorite dish and share. All families need to bring place sitting and drink. Come one, come all to relaxand laugh at Beaver campgound where we all are just one big family! Fee $3.00 a car or you can use your season pass.
Also, from now own, this newsletter will be published on line at www.beavertownrvpark.com under "newsletter". There will be limited copies available in the Town Post Office.