Town of Beaver Newsletter
September, 2010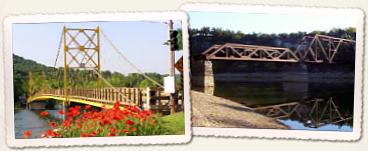 "BEAVER SLAP" TALES
My friend, Pamela Teslow, told me that when you are out on the water you often hear a beaver "slap" its tail to give an alert. I had never experienced this so all credit for the title of this new newsletter goes to her. Thanks, Pamela.
Many of you have met Pamela at our post office where she has worked part-time. You may also know her husband, Larry. He has been so good at offering his services to help install parts of B.J.'s rose garden and to help maintain that and the post office property. They have owned the home behind the P.O. for a few years, but are now in the process of returning to their home in Minnesota. Larry will be back with his beloved lakes, trumpeter swans, bear cubs in the front yard and the deep freeze and beauty that is the north.
Pamela will, hopefully, start painting her beautiful flowers again and we wish both of them a fond farewell. My partner, Deborah, and I want to extend an invitation to come by our house on Friday, Oct 1st at 214 Squire Beaver (right across the street from the P.O.), between 4:30 and 6:30 p.m. to join us in a farewell get together.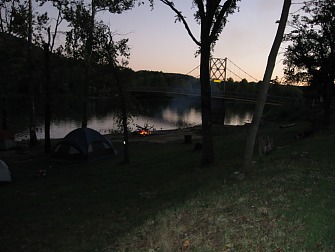 What a summer! The horrible heat affected everyone and everything. Campers didn't want to camp, fish didn't want to swim and even the birds seemed to fly more slowly or not at all. For sure the deer were eating everything in sight and stuff they even hated, searching for one succulent bite with a little moisture. The armidillos were tearing up gardens and gravel driveways looking for a small living morsel that hadn't already dug down as far as it could to get away from the sun beating on the parched ground.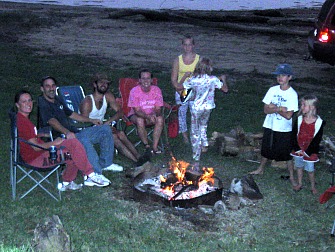 Yet, this was the best weather for swimming! I understand our local tow-headed son, Michael Cohick, learned to swim this summer! Good for you, Michael. You might see Michael and his faithful dog walking down the highway through town, visiting with people and enjoying each others company. Michael always has the beautiful beast on a leash and they watch out for one another. What a good dog and what a wonderful young man.
I met another wonderful young man this summer. John Maes stopped by one day and asked if he could search my property for metal. anything metal. Well, if you live on an old property like mine and drive over it with a truck or lawnmower, you say yes! John is studying anthropology at U of A and has been back again to do more treasure hunting.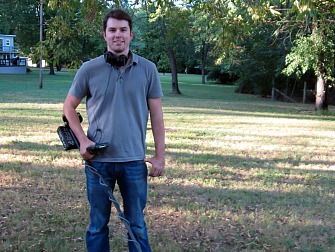 He did find a 1911 penny on the property and just kept on going. If John can help you find a lost ring or such objects you can email him at JMaes@uark.ed He is tenacious, polite, intelligent, and even fills in the holes he digs!
As summer wound down, we were so glad to see the park almost full on Labor Day weekend. Deborah and I were out picking up brush on our lot that adjoins the park. A young wonman asked if we could spare some branches. Seems her father always brought the firewood but hadn't that time. Hmmmm. Give away branches or hassle with a burn pile ourselves? Dump them over the fence?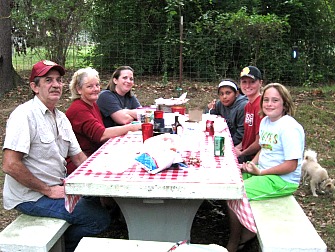 Later on I went to visit with these campers. Leslie had asked for the firewood. She was joined for the weekend by her friend, Jennifer, who was celebrating her birthday, and other family and friends. Leslie's father, Dennie Sikes, told me that he has been coming to the Beaver Park campground for many years. He loves the campground and has shared it with his family. It was his grand-daughter, Kelsea's, first visit, and she had brought her friend Cindy.
The two girls told me we needed a bigger slide and bigger swings, etc. and I agreed. Fund drive, maybe???? They were having a good time just as Leslie and Mr. Sikes had had for many years before them. It is people like this that keep us going as a town. Thanks , Mr. Sikes, for continuing to visit us and for sharing our beautiful little town with your family.
Enough for now. This little newsletter is just to give you a hint of what may be going on in town, or a story behind someone you drive by, live next to, or see walking out of the store or P. O. So many people, like myself, have moved into the area. A lot of folks who grew up here or have lived here a long time don't know us. We don't know you, but we want to. If you have any stories, tidbits of info, whatever you think might draw us together as a community, please feel free to email them to me at penny-sullivan@suddenlink.net with Beaver in the subjet line.
Until next time.